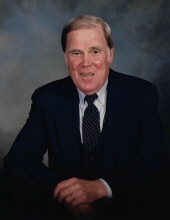 Obituary for Max Kenneth Miller, Sr
Max Kenneth Miller, Sr, 82 of Rome, Georgia, formerly of Carrollton passed away on January 23, 2018.

Mr. Miller was born on July 8, 1935 in Paulding County, Georgia the 11th child of the late William Hayman Miller and Missouri Elizabeth Hill Miller.

He was a member of the National Guard and did Basic Training for the Air Force. A member of Tabernacle Church, he was ordained as a Deacon at Midway Baptist Church, then Macedonia Baptist Church. .He worked for Barnes Freight Line until they closed in 1982. After Barnes, he worked with his wife in their cleaning business and did landscaping as well.

In addition to his parents, he was also preceded in death by his siblings, Howard Miller, Myrtie Miller Hitchcock, Dorothy "Dot" Miller Markham, Beulah Rose Miller Carroll, Johnnie J. Miller, Wilburn H. Miller, Calvin Miller, Louise Miller, Grace Miller Worley and Barbara Miller Caramana.

Survivors include his wife of 56 years, Sue Horton Miller of Rome; children, Phyllis & Chris Lutrell of Rome, Max K. and Debbie Miller, Jr of Jacksonville, NC, Maiden Elizabeth "Beth" Carnes of Whittier, NC, Ronnie Carnes of Villa Rica, GA, John P. and Laura Southern Miller of Whittier, NC; grandchildren, Joe Nelson of Savannah, GA, Daniel Nelson of Tampa, FL, Breanna Miller of Reno, NV, Christopher Miller of Reno, NV, Geneva Fellah Miller of Houston, TX, Madelyn E. Miller of Whittier, NC, Winston Lloyd Miller of Whittier, NC; great grandchild, Jerry Nelson of Tampa, FL; Brother-in-law John Richard Worley of College Park, GA and many nieces and nephews.

The family will receive friends at Martin & Hightower Funeral Home in Carrollton on Friday, January 26, 2018 between the hours of 5 & 7 pm.

Memorial Services will be conducted on Saturday, January 27, 2018 at 11 am from Tabernacle Baptist Church with Mr. David Leak and Reverend Fred Cooke officiating. Music will be provided by Dena Arp & Family, with musical selections by Brenda Sue Holcombe. Chris Lutrell, Brian A. Horton, Joe Nelson, Daniel Nelson, Mark Caramana, David Worley, Ronald Carnes, Brett Teel, Terry Teel and Art Miller will serve as honorary pallbearers.
Previous Events
Visitation
Martin & Hightower Funeral Home
1312 South Park Street
Carrollton, GA 30117
Memorial
Tabernacle Baptist Church Chapel
150 Tabernacle Dr
Carrollton, GA 30117