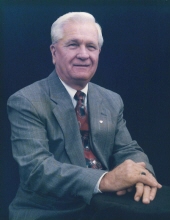 Obituary for Rev. William E. "Junior" Jones, Jr.
Reverend William E. "Junior" Jones, Jr. of Bremen passed away Wednesday, January 10, 2018 at his residence. He was born in Munford, AL,February 25, 1926, son of the late William Ewell Jones and Estelle Norton Jones.
Mr. Jones was in business with his father and was employed as service manager and car salesman at Buster Miles Chevrolet in Heflin, AL. In addition, He worked on the family farm for the first 70 years of his life. But he was most humbled and blessed by his calling into the ministry. He was ordained in 1967 at his home church, New Harmony Baptist, where he had served as a Sunday School Superintendent and deacon prior to his ordination. He pastored many Baptist churches in Cleburne County, including Bethsadia #1 (Abel), Happy Hill, Union Hill and Cedar Creek. He was also interim pastor at New Harmony Baptist Church. In Carroll and Haralson counties in Georgia, he pastored Eureka Baptist Church and was interim at Poplar Springs. In addition, he served as Vice-Moderator and Moderator of the Cleburne Baptist Association.
In addition to his parents, he was preceded in death by his first wife of 49 years, Erlene Clay Jones and his second wife of 19 years, Jeanette Kirk Jones.
Survivors include a daughter, Sonja Jones Adams of Heflin, AL; a son, Charles Wayne and Dianne Jones of Rainbow City, AL; step-daughters, Gina Kirk, Miami, FL, Karen Kirk of Bremen, Susan Kirk (Michael) Reyher, Bremen, Lisa Kirk (Scott) Evans of Bremen, Anita Kirk (Greg) Yancey of Carrollton; grandchildren, Jonathan (Carrie) Adams of Heflin, AL, Rebekah (Michael) Chambless, Fairhope, AL, Charles "Chip" Wayne (Helen) Jones, Jr. of Pace, FL, Emily Jones of Mobile, AL; five great grandchildren; step-grandchildren, Moriah Kirk, Miami, FL, Emily Yancey and Maggie Yancey both of Carrollton; sisters, Genell Jones Gossage of Heflin, AL, Jacquelin Jones (Carroll) Shealey of Jonesboro and a brother Harold (Mary) Jones of Heflin, AL.
The family will receive friends at the funeral home Friday from 6:00 until 8:00 PM EST.
Services will be Saturday, January 13 at 3:00 PM EST from the Bremen First Baptist Church with Brother Greg Yancey, Dr. Larry Riddle and Brother Herman Parker officiating. Music will be furnished by Wayne Jones, the Kirk Girls and the church choir under the direction of Andy Fowler. Jonathan Adams, Michael Chambless, Lamar Jones, Chris Shealey, Chip Jones, Tim Gossage , Charles Shealey and Mike Reyher will serve as pallbearers. All current and former pastors of Cleburne Baptist Association and Carroll and Haralson Counties will serve as honorary pallbearers. Interment will follow in New Harmony Baptist Church Cemetery in Heflin, AL.
The family requests that donations be made to the New Harmony Baptist Church building fund or cemetery or to the Bremen First Baptist Church Building Fund.
Share your thoughts and memories in our guestbook at www.hightowerfuneralhome.com.
Previous Events
Visitation
Hightower Funeral Home
318 Gordon Street
Bremen, GA 30110
Service
Bremen First Baptist Church
331 Pacific Ave.
Bremen, GA 30110
Cemetery Details
Location
New Harmony Baptist Church Cemetery
Hwy. 9
Heflin, Alabama 36264