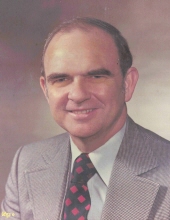 Obituary for "E.B." Ezra Buell Jones, Jr.
E. B. Jones, Jr., lifelong resident of Bremen and member of the First United Methodist Church passed away October 13, 2017. He was born in Bremen to loving parents, the late E. Buell Jones, Sr. and Hattie Walker Jones on August 17, 1929.
In addition to his parents, he is preceded in death, by his younger brother, James (Jimmy) Frank Jones, his youngest son, Kevin Fred Jones and youngest granddaughter, Virginia Claire Jones.
Mourning his passing is his wife of 41 years, Mary Jo Owens Jones of Bremen; daughter, Phoebe Jones Ericson and husband, Steve of Carrollton; sons, Ezra B. Jones, III of Sandy Springs and Jeffery McLeroy of Bremen; grandson, Kevin Swatek of Carrollton; granddaughters, Anna Jones of Atlanta and Holly Theisen- Jones and husband, Michael Theisen-Jones of Atlanta.
As a 1946 graduate of Bremen High School and avid photographer, a contribution to our town was his film "Bremen On Parade." Earning a Bachelor of Science in Finance at the University of Georgia in 1950, was followed by his 1952 law degree from the University of Georgia Lumpkin School of Law. While at the University, he was a brother in Sigma Nu Fraternity and Carlylian Scholar and Gridiron Secret Society member. In the summer of 1952, the U. S. Army drafted and commissioned him as a First Lieutenant. After studies in Military Code of Justice at the University of Virginia in Charlottesville, he was appointed to the (JAG Corp) Judge Advocate General Corp representing the U. S. Army Government Appellate Division at the Pentagon from1952-1954 where his precedent setting cases remain in law books today. Establishing his office in Bremen, in the winter of 1954, he began a distinguished 46 year career in his practice of Real Estate Law. He always remarked that the small Tallapoosa Circuit Bar Association was an exceptional group with great talent and it was his honor to be among the members.
In addition to his law practice, he enjoyed fall football, spring fishing, fine food and world travel. His disciplined life incorporated all his favorites until October 13, 2017. The likes of his cheers from the 50 yard line at Sanford Stadium in Athens will be difficult to replace, as the bulldogs have known his loyalty for 70 years.
These are, but a few of the highlights, of a life well lived by E. B. Jones, Jr. He was a treasured gift in our lives and will be affectionately remembered for his fun, quick wit and kind, devoted love.
Services will be held Sunday, October 15 at 3:00 PM from the Bremen First United Methodist Church with Reverend Gerald Varner, Lee Smith, Ron Harrell and Larry Boggs officiating. Music will be furnished by Lynn Hodges, Martha Greer, Bo Pollard and Kelly Pollard. Serving as pallbearers will be Vince Benefield, Dave Pollard, Doug Grizzard, Mike Bishop, Will Clifton and Brad Hendrix. Interment will follow in Bremen City Cemetery with military honors furnished by American Legion Post 143.
In lieu of flowers, you may make donations to the First United Church of Bremen, 321 Hamilton Avenue, Bremen, GA 30110.
Share your thoughts and memories in our guestbook at www.hightowerfuneralhome.com.
Previous Events
Visitation
Hightower Funeral Home
318 Gordon Street
Bremen, GA 30110
Service
First United Methodist Church of Bremen
321 Hamilton Avenue
Bremen, GA 30110