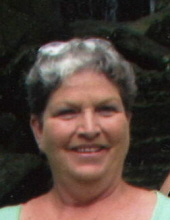 Obituary for Connie Hulett Slate
Connie Hulett Slate of Bremen passed away Wednesday, October 4, 2017 in a local hospital. She was born in Waresboro, December 7, 1940, daughter of the late Marvin Jackson Hulett and Velma Clyde Smith Hulett. Connie was a member of the Waco Baptist Church and she retired from Tree Farmer Equipment Company after 19 ½ years.

In addition to her parents, she was preceded in death by her husband, John William 'Bill' Slate and a son-in-law, Darien Mize.

Survivors include three daughters, Angela Mize of Buchanan, Leslie Slate of Douglas, Patti and Mike Patterson of Cleveland, TN; six grandchildren and a sister, Lillie White of Axson, GA.

The family will receive friends at the funeral home Friday, October 6 from 5:00 until 7:00 PM.
In lieu of flowers, donations may be made to America Cancer Society or Bremen Senior Center, 425 River Circle, Bremen, GA 30110.

Services will be Saturday, October 7 at 2:00 PM from the chapel of Hightower Funeral Home.