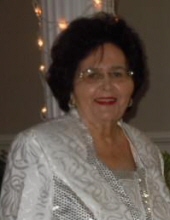 Obituary for Vivian Mozley Holcombe
Vivian Mozley Holcombe of Buchanan, passed away Saturday, December 3, 2016. She was born in Haralson County, January 28, 1935, daughter of the late Earl Mozley and Clara Cook Mozley. Mrs. Holcombe was a member of the First Baptist Church of Buchanan. She was employed by the City of Buchanan for sixteen years as city clerk. While working for the city, she would help pay the citizens their water bill when they couldn't afford to pay. Mrs. Holcombe served as County Treasurer for twenty years.
Vivian Holcombe Day was originated on August 17,2012 by Haralson County in celebration of her dedicated service to our citizens.

In addition to her parents, she was preceded in death in 1982 by her husband, Jack Holcombe; a daughter, Angela Holcombe; a son, Rickey Holcombe; grandson, Kellett Holcombe and her brother, L. C. Mozley.

Survivors include a daughter and son-in law, Dianne and Johnny Williams of Tallapoosa; two sons and a daughter-in-law, Jackie Holcombe of Buchanan and Steve and Rhonda Holcombe of Buchanan.: grandchildren, Jamie and Brian Finley, Tallapooosa, Shannon and Randi Williams, Buchanan, Christy Nelson of Tallapoosa, Gordon Nelson of Carrollton, Misty and Brent Shows, Senoia, Mandy and Brian Wells of McDonough, Matt and Haley Holcombe, Tyler and Britney Hudgins, J.J. and Keshia Holcombe, Chris and Samantha Holcombe, Rick and Nikke Holcombe, all of Buchanan and twenty-two great grandchildren.

The family will receive friends at the funeral home Monday from 5:00 until 8:00 PM.

Services will be Tuesday, December 6 at 2:00 PM from the chapel of Hightower Funeral Home with Reverend Ricky Shirley and Reverend Gary Singleton officiating. Music will be furnished by Ashton Purser and Gary Singleton. Shannon Williams, J. J. Holcombe, Chris Holcombe, Rick Holcombe, Matt Holcombe, Preston Robinson, Brian Wells, Brent Shows, Gordon Nelson, Jeromie Robinson, Adam Gose, Donny Rainey and Brian Finley will serve as pallbearers. Honorary Pallbearers will be Braxton Robinson, Hayden Holcombe, Ethan Wells, Kaleb Holcombe, Jackson Holcombe, Tyler Hudgins, Kaden Holcombe and Kason Wells. Interment will follow in Edwards Cemetery.
Previous Events
Visitation
Hightower Funeral Home
318 Gordon Street
Bremen, GA 30110
Funeral
Hightower Funeral Home
318 Gordon Street
Bremen, GA 30110
Interment
Buchanan City Cemetery
3888 Hwy 27 North
Buchanan, GA 30113