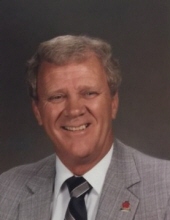 Obituary for T. Murphy McManus
T. Murphy McManus of Bremen passed away Saturday, April 15, 2017 in a local health facility. He was born in Randolph County, Alabama, March 14, 1932, son of the late Amos Marshall McManus and Linnie Washington McManus. Murphy went to elementary school in New Hope, Alabama and to Woodland High School in Woodland, AL. As a junior, he transferred to Rosemont High after moving to LaGrange, GA. In 1955, he graduated from Rosemont and Coach Luke Rustin recruited him. While at Young Harris, he received the Little All American Title, He Loved Young Harris! From Young Harris, he was recruited at the University of Georgia and there received the All American Title.
After graduation from "GA", he took a job at Harris County High School as Head Coach for the boys and girls. He took his boys team to "State"several times. It was while he was there he met and married Eva Hoxsie from LaGrange. They had three boys, Duane, Dean and Kevin. Eva was also, a graduate of "GA".
In 1964, Murphy and family moved to Americus, GA to be the Headmaster. Furniture and supplies were to be purchased and then, of course, teachers to be hired. After four years at Southland, he took a job in Carroll County as Principal of Central of Carrollton High School. The boys were all enrolled at Central Elementary. They went to Central in 1970.
In 1979, Murphy was appointed Superintendent of Bremen School System. While at Bremen, he was instrumental in building a new Board of Education Building and the dedication was held in the building in November, 1983. He retired in 1990 after eleven years in office.
After retirement, he enjoyed traveling in his motor home with his wife, Eva. While not on the road, he found antique furniture, restored them and sold what they didn't keep!
On September, 19, 2008, he was awarded a place in the Bremen High School Circle of Honor.
In addition to his parents, he was preceded in death by five brothers, Joe Bob, J. R., Burns, Marshall and Durrell McManus and a sister, Imogene Bailey.
Survivors include his wife, Eva Hoxsie McManus of Bremen; three sons and their spouses, Duane and Judy McManus of Bremen, Dean and Demme McManus of Dublin and Kevin and Lori McManus of Bremen; seven grandchildren, Allison and David Key of Bowdon, Barrett and Emily Kimball, Bremen, Ashton McManus of Columbus, David McManus and Devon McManus both of Dublin, Josh and Shelby Meadows, Dylan Meadows, both of Bremen; great grandchildren, Ada Lynn Key, Luke Key, Andy Kimball, Will Kimball, Charlie Kimball (Will be here soon), Ella Meadows and Kirk Meadows; a brother and sister-in-law, Bayward and Betty McManus of Jonesboro and a number of nieces and nephews.
The family will receive friends at the funeral home Monday from 5:00 until 8:00 PM.
Services will be Tuesday, April 18 at 11:00 AM from the First United Methodist Church of Bremen with Reverend Gerald Varner and Reverend Duane McManus officiating. Music will be furnished by Ann Hobbs, Lynn Hodges,Martha Greer and Sue Ezzell.. Barrett Kimball, David Key, David McManus, Josh Meadows, Dylan Meadows and Chefo Casa will serve as pallbearers. A private graveside will be held at a later time.
Share your thoughts and memories in our guestbook at www.hightowerfuneralhome.
Previous Events
Visitation
Hightower Funeral Home
318 Gordon Street
Bremen, GA 30110
Service
First United Methodist Church of Bremen
321 Hamilton Avenue
Bremen, GA 30110