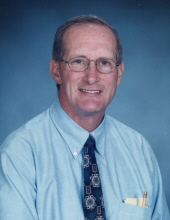 Obituary for Larry "Duane" McBrayer
Larry "Duane" McBrayer, age 71, of Bremen, Georgia, joined the Heavenly Choir on Wednesday, January 11, 2017, following a long and courageous battle with cancer and congestive heart failure.
A lifelong resident of Haralson County and a devoted Christian, Duane was known for his many talents in music ministry, carpentry and education. His love of music and distinctively high, clear tenor voice were showcased for many years as a member of The McBrayers family gospel singing group, with his parents, Durrett and Jewell McBrayer, his brothers, Dennis and Durrell, and eventually his bride, Martha Ann Parker McBrayer. The group traveled the South, performing at church singings and other Christian functions for many years and eventually recorded an album of gospel music called The Lighthouse. The next generation of McBrayer family singers have joined in and still sing every Sunday morning on the McBrayer Radio Program on Bremen radio station WGMI, a tradition begun in the singing group's early days.
Duane was also a songwriter, with several gospel songs written and published on his own and with members of his family. He served as Music Director and Singing School Teacher for his lifelong church family at Bethel Baptist Church in Bremen, Georgia, for many years. Until only recently when his health became an issue, Duane continued to travel to annual convention singings across the South, where he practiced the historic art of song directing and enjoyed singing old and new hymns, fellowship with many "singing" friends he considered close like family and the wonderful home cooking of dinners on the grounds.
Duane was also a Deacon and Sunday School teacher at Bethel Baptist Church, a Gideon, Board Member of North Georgia School of Gospel Music, teacher at Haralson County Singing School, and previous president of Georgia State Gospel Singing Convention.
In addition to singing together, the McBrayer family also worked together in the carpentry business, building and remodeling homes throughout the West Georgia area. Duane eventually developed a specialty in fine cabinetry work, leveraging his attention to detail and fine woodworking skills, and outfitting his own workshop where he produced coveted cabinets and built-in furniture for many homes in the region. His own family members lovingly point to exquisite examples of Duane's craftsmanship and artistry in kitchen and bathroom cabinets, specialty furniture in their homes and even turkey calls.
While building homes, Duane also earned his teaching degree and, in 1980, he began his teaching career at Haralson County High School. Among other accomplishments, he developed a successful and innovative student construction program that actually produced homes for sale in the community. Duane retired in 2005 after 26 years of teaching due to his illness. Following his retirement, he enjoyed updates from his former shop students and often ran into them around Haralson County.
In his free time, Duane also enjoyed hunting and being outdoors. Several deer and wild turkey trophies take center stage in their home, and they are carefully and temporarily moved once a year only to make room for the family Christmas tree. In recent years, the couple's yellow Lab, Tackleberry, was Duane's companion for his daily walks.
Larry Duane McBrayer was born on July 9, 1945, at his parents' home in Bremen, Georgia. On July 4, 1962, he married Martha Ann Parker, whom he met fittingly in church and at his own home where his Mother taught Martha piano lessons. They built a beautiful, loving life together in Bremen, centered around their faith and family, and gave generously of their time and talents to others. There was no limit on the miles they would cover in a weekend, with Duane usually at the wheel and regardless of weather, in order to attend a special singing. Grandchildren were always visiting, enjoying time with their grandparents.
When Duane was diagnosed with advanced cancer 10 years ago and given only months to live, he and Martha were inseparable in their search for a trial treatment which they found at MD Anderson in Houston, and he was in remission for eight years. Martha was at Duane's side for every appointment and procedure. Duane was an inspiration to all with his courage and faith, including many who were fighting cancer as well.
In addition to his bride of 53 years, Duane is survived by their three children: sons, Cris McBrayer, of Edwardsville, Alabama and Darren McBrayer, of Bremen, and daughter, Marybeth McBrayer Goyer (Greg) of Bremen, and eight grandchildren: Daniel, Abigail, Jay, Nathan, Tabitha, Jonathan, Sarah Hope and Christopher. He is also survived by his two brothers, Dennis McBrayer (Laura), of Bremen, and Durrell McBrayer (Elaine) of Delta, Alabama, and a number of nieces, nephews and cousins.
Funeral services will be conducted on Saturday, Jan. 14, 2017, at 12:30 pm in the sanctuary of Bethel Baptist Church, 2656 Old Bush Mill Road, Bremen, Georgia. Services will begin with a 30-minute congregational singing. Officiating will be Rev. Vann Brown, Pastor of Bethel Baptist Church, and Rev. Ronald Carroll, Assistant Pastor of Bethel Baptist Church. Music will be provided by the congregation and selected directors. A graveside service will follow in the Bethel Baptist Church Cemetery.
Pallbearers will be Duane's nephews: Kerry Godbee, Keith McBrayer, Casey McBrayer, Scott McBrayer, Kevin McBrayer and Scott Mossburg. Honorary Pallbearers will be the Bethel Baptist Church Deacons.
The viewing and visitation with the family will take place from 6-9 pm on Thursday and Friday, Jan. 12-13, in the sanctuary of Bethel Baptist Church.
Share your thoughts and memories in our guestbook at www.hightowerfuneralhome.com.
Previous Events
Visitation
BETHEL BAPTIST CHURCH
2656 Old Bush Mill Road
BREMEN, GA 30110
Visitation
BETHEL BAPTIST CHURCH
2656 Old Bush Mill Road
BREMEN, GA 30110
Service
BETHEL BAPTIST CHURCH
2656 Old Bush Mill Road
BREMEN, GA 30110
Cemetery Details
Location
Bethel Baptist Church Cemetery
2656 Old Bush Mill Rd.
Bremen, GA 30110