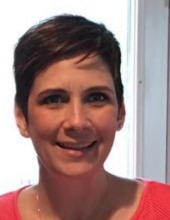 Obituary for Keya Brown Yarbrough
Keya Brown Yarbrough of Bremen received her angel wings Friday, December 16, 2016 (one day after her 45th birthday), after a courageous two year battle with kidney cancer. Keya is survived by her loving husband of 12 years, Eric Yarbrough; two sons, Noah and Jonah; a sister Elena Duke; a brother, Kai Bjork; mother, Judy T. Lively and dad, Spencer L. Lively; mother-in-law, Janet Yarbrough, father-in-law, Sherman Yarbrough and Lynn; nieces and nephews, Drake Bjork and Celest, Zach Bjork, Evan Duke, Elyssa Bjork, Zoe Rucker, Braylee Duke and one great niece, Mia Bjork. In addition to these, there are too many uncles, aunts, cousins and friends to name.

Keya battled this terrible disease with dignity and grace. She knew her time here was limited, so her one wish was to see both of her sons graduate from Bremen. Jonah graduated in 2016, with Noah on track to graduate in 2017. Realizing the situation she was in, the wish didn't look as if it would come true. Jonah, serving his country in the Navy, came home on family leave from basic training to be with his mom on Thursday, December 15, and her wish came true. Dr. Tim Huff of BHS surprised everyone by showing up at the Cancer Treatment Center in Newnan to officiate Noah's graduation with family surrounding Keya.

Keya loved her "quiet" time, movies and especially fine dining and trying different foods. She also loved her Poppa's biscuits and cornbread, along with the fresh vegetables her Mom aka Booma cooked. Keya also loved her dog Prissy and she was always by her side. Keya had many accomplishments and her love for children was rewarded as she was named Teacher of the Year in 2010 and 2011 at Sharp Creek Elementary. She loved her church and church family and rarely missed a service.

Keya complained very little over the last two years, showing extreme courage in her battle, preparing her loved ones for the day she earned her wings. Grace, love, courage and bravery are all words that describe her during her lifetime. Keya is not defined by her passing but is glorified in her living and the legacy of family that will continue.

Visitation will be at West Georgia Worship Center, 2815 Old Bushmill Road, Bremen from 5:00 until 8:00 PM Sunday, December 18.

A celebration of her life will be held on Monday, December 19 at 11:00 AM from the West Georgia Worship Center with Reverend Ricky Shirley officiating. Pallbearers are Brent Yarbrough, Greg Duke, Drake Bjork, Zach Bjork, Stephen Taylor, Justin Langley and Evan Duke. Interment will follow in Forest Lawn Memorial Park.
A special thank you to the staff of Cancer Treatment Center of America, Newnan for their love and support and the surprise birthday party. At Keya's request, in lieu of flowers, please donate to Children's Healthcare of Atlanta, 1405 Clifton Road, Atlanta, GA 30329 to help children in their time of need.
Share your thoughts and memories in our guestbook at www.hightowerfuneralhome.com.
.