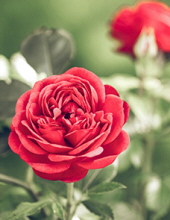 Obituary for Dona Mae White
Dona Mae McGovern White, age 84 of Carrollton, passed away Sunday, July 9, 2017 in a local hospital. She was born in Cuyahoga Falls, Ohio, January 15, 1933, daughter of the late John McGovern and Hazel Phillips McGovern. Mrs. White was of the Catholic Faith.

In addition to her parents, she was preceded in death by her husband of 36 years, Richard White.

Dona worked most of her life as a Registered Nurse, both in the Emergency Room and later in private practice. She always was great at nursing us back to good health!

She was an avid reader and always wanted to learn new things, while seeking adventure. She always kept up with the latest technology. She kept up with politics and wrote to every Congressman to tell them how she felt about issues, both locally and at the National level.

Dona loved NFL Football! She always was willing to bet a $1 for any game! She set the $1 on the TV stand to pass back and forth for the season! She was a Cubs fan, too!

Survivors include children; David Pariso of Las Vegas, Nevada, Luke and Emily Sharkey, Texas, Kathleen Perry of Independence, Kentucky, Kevin and Candy Sharkey of Minnesota and Tommi and Matthew Massengale of Carrollton; step-children, Ron and Linda White of Oklahoma and Rick and Donnie White of Oklahoma; sister, Vivian Pugh of Florida; brothers, Jack McGovern and Pat McGovern, both of Illinois; fourteen grandchildren and ten great grandchildren.

Graveside services will be held at Our Lady of Perpetual Help at a later date.